Magento Imagine always sounded like fun and by far like the most professional and biggest Magento conference in the world. Until now, I was too stingy and found it too expensive to go there. Paying the ticket price, the flight and the hotel all by myself just seemed to be too much given that there are so many Magento events in Europe. This year I was really lucky one more time and won the trip to Imagine 2017 from dotmailer. I am so thankful and honestly appreciate this a lot! They wanted to give something back to the community – such a selfless thinking. Awesome! And by the way, they really seem to have a rock solid product as well. If you are merchant with a decent size and look for email automation, go have a look at dotmailer!
The conference was mainly from Monday to Wednesday, but the weekend before is usually packed with events and people as well. Hence, I managed to already arrive on Friday evening with a longish flight from Frankfurt via London to Vegas. On Friday I directly just fell into bed – I did not even manage to buy a bottle of water and spent a "small" amount of money to get it from the room (one liter of water costs fucking 10 USD at the Wynn!). On the one hand, I wanted to attend the hackathon, which took place on Saturday and Sunday. But since it was my first time in Vegas, I really needed to make sure to do some sightseeing. Hence, I skipped the hackathon, walked down and up the Strip and randomly entered hotels and casinos. Such a strange, artificial, crazy and unreal world! In the evening, we had a casual meeting with the awesome members of extDN. So good to meet all these people in real life!
On Sunday I had some meetings and randomly popped into the hackathon in order to disturb people 😉 In the evening, there was PreImagine: a short two-hour networking event at the sunset terrace. Afterwards many of the participants including me went to Stripburger to eat a traditional American burger and have a few more beers.
On Monday, the actual conference started. The weird thing is that at Imagine, there is no keynote or anything on the first day. The sessions simply start, which feels a bit strange at first. Talks are 30 minutes followed by 15 minutes Q&A, which seems to be a good time for me. Between the sessions, there is always enough time for refreshments and networking. What I really liked on Monday was the lunch. Sitting at the pool, looking into the blue sky, feeling the sun on your skin, talking about Magento… Could be worse! The party on Monday night at the poolside was nice, but a bit short. They already kicked us out around 10pm – the time, where I usually start with the networking deep dive 😀 We had a few more drinks at the hotel bar, but it did not really freak out.
Hence, I was fit enough for the second conference day, which was kind of like the first. Except the after party. That was even bigger, fancier, crazier and fortunately at least a bit longer. With a live band, a DJ, multiple bars and a few artists, Americans really know how to party! Among others, I met Gabriel Guarino. An incredibly nice and open-minded guy from Argentinia. And we came up with a really good idea, which one should do more often. We walked around and randomly introduced each other to people only one of us knew before. At least for me, this is always the easiest and most comfortable way to get in touch with someone. One could even think that further and never quit a conversation by just leaving. When you finished talking to someone, walk around with him and as soon as you meet someone you know, introduce them to each other and walk away or stay with them. This would make networking a whole lot easier… Since this is difficult to bring to people's minds, at least try to introduce people to each other as often as you can on your next event!
At the last day of the event, there was the most interesting keynote as it was about the future of Magento. And they announced quite a bit this year! Magento BI, Magento B2B, Magento Shipping, Magento Social, Magento CMS, Magento whatever! Kind of exciting. I just hope that they do not plan too much and do not get anything done in the end. Let us see how it turns out. Unfortunately, Magento CMS will mostly be EE-only, which I think is wrong. I totally get that EE needs to have unique features to be useful. But the CMS is such a basic thing like the catalog or sales module, that it should be included in CE, too. But well… I doubt Magento will follow me on that one 😀
After the keynote and a few more usual sessions, there was a special lunch for certified people from the community. It was a nice lunch with good discussions. But what I liked most about it was the appreciation Magento expressed with this short event. Thank you! Afterwards, there was another event format called DevExchange. People could propose topics and one could vote on these topics in the Magento forums before the conference. The most voted topics were selected and round table discussions were organised for them. They were led by the people who suggested the topics. But what made it kind of special was the fact that there was a Magento employee at each table as well. Magento core developers, technical architects, product managers, etc. That made the discussions even more valuable!
And boom, that's it. Five fully packed days are over. Magento Imagine 2017 is over. But at least Meet Magento Germany is happening quite soon and there is even a date for Imagine 2018: It will be on the 22nd and 23rd of April next year. Again at the Wynn.
As always, I really enjoyed meeting so many new people I often only know from Twitter. Especially at this event, because I finally met the people from the American Magento community. Re-connecting with known friends and colleagues is of course equally nice. The other part why I like going to such conferences are the sessions. I keep hearing people saying that the sessions are sometimes boring and they do not learn anything new. While this may be true, at least I am always inspired and come back with a list of things and ideas I would like to check out. For instance, I did not ever heard about BEM (mainly because I try to avoid frontend where possible) and did not even learn something about it at Imagine, but now read something about it. Even though this is a fairly small example, this of course applies to bigger topics as well. This is how you grow as a developer, as a businessman and as a human.
To wrap this up, here is a random list of additional things I encountered in Vegas:
Vegas is a really strange, artificial, crazy and unreal city.
You can enjoy a conference during daytime much more if you did not exaggerate it at the evening before and totally went crazy.
Networking is much easier in the US due to the "how-are-you-attitude".
US conferences feel a bit German when it comes to timing – the time line is really sharp.
It is as shit as in Germany when a party is not open end.
Always carry your ID with you – even at conference events.
Imagine is the only event where you meet SO many Magento employees.
Magento has really become MUCH more open – community is a priority now.
Dutch people really all speak exceptionally good English.
Imagine is by far the fanciest, biggest and most professional Magento event in the world.
For Magento, fairly naked lightly clad actresses at the party obviously do not contradict with a session about diversity in tech. (Update: There is now also a separate blog post about that.)
Everything in Vegas costs a shit lot of money.
Having fake info on your conference badge is a good conversation opener.
It feels good to hear Americans saying critical things about their president. Or if they simply show their opinion: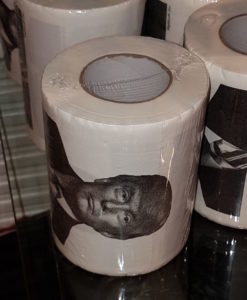 See you at the next Magento event! Mine will be the Meet Magento Germany by the way 😉